TES... We have found a large irreparable crack on the blue slide near a support beam. As a result, the slide must be removed.

TES Below are the administration instructions for the Spring 2023 WV School Learning Environment Survey for parents or caregivers of students at: Tennerton Elementary, Upshur County (087-209). The online parent survey will be available from February 20 through April 7, 2023. When parents log onto the survey, they will see explanatory information about the survey and the important information below as to their rights as a survey participant: Your participation is voluntary. You may choose not to participate; not to answer any questions you do not want to answer; and you may stop participating at any time during the survey without penalty. Your responses will be anonymous and confidential. Parents can access the survey at:
https://www.surveymonkey.com/r/WVSLES_P_S23
Parent login code: P087209

TES Due to the projected forecast for the next two weeks we have decided to skip the large Egg Hunt and instead revert to a normal in class party on March 31 at 2:30. As always, pre-packaged snacks and candies without peanuts are permitted.


TES... Just a reminder that tomorrow, 3/9, is an early (12:30 dismissal) for all schools in Upshur County.


TES... 3rd Quarter Family Survey
https://forms.office.com/r/awtqYPPKPj
Calendar Updates March 3/2 PT Conferences 4:00-6:00 3/7 PTO 4:00 3/9 End of 3rd quarter 3/10 12:30 dismissal 3/18 Jonathon Perry Memorial 5k 3/27 Spring Pictures 3/31 Tiger Day; Spring Party 2:30 4/1 Spring Break

TES... Important February Dates- 2/6 Mid-term 3rd quarter 2/7 PTO 4:30 2/10 Valentine's Day Party 2:30 2/17 Faculty Senate-no students 2/20 OSE-no students 2/24 Tiger Day

TES… Tiger Day scheduled for tomorrow is being rescheduled for Tuesday of next week.


TES... Attendance matters!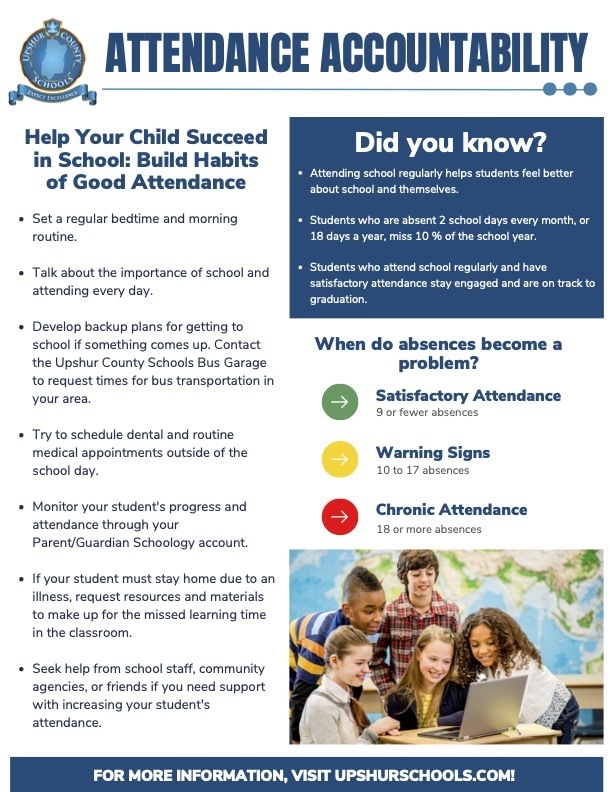 TES… Leaving Beckley. Gorge is up in the air due to rain. Update soon.

TES Cornerstone Church will be the location of the awards ceremony, not the old Horizons Church. Cornerstone is down the road from the school heading towards the Head Start.

TES... End of year activities: May 17-Wellness and Field Day for 3-5 @ BUHS (info was sent home last week). May 18-3rd grade field trip; 4th grade tours SWA; 5th grade tours FETC. May 19-Move up day for upcoming Kindergartners, 6th graders, and 9th graders. 12:30 dismissal. May 20-No school. May 24-Move up day for TES students. May 25-Awards at Cornerstone Church. 4/5 8:30; K/1 9:25; 2/3 10:10. Please keep in mind these times are approximations. Please allow all guests to clear before entering. May 26-Fun Day K-2; Pool Party 3-5 May 27-Early dismissal

TES... For our upcoming in district Kindergartners. Please see the following information about next week's move-up activities: All students will need to be dropped off AND picked up. As we do not have a pre-k in our building, there will not be buses bringing students our building. Drop off and pick up both will happen at the cafeteria doors. If you plan on walking your student in you may bring them in through the front doors. All students will be directed to the cafeteria to meet with the teachers/aides. We will meet briefly at 8:00 with parents and students before beginning the day. Parents are not expected to stay for the day. Our students will be staying together and will be having story time, art, music, and PE as well as exploring the school. After school students may be picked up from the front office or from the cafeteria. Please send a note with your child if they will be picked up at the cafeteria or from the front office. Pick up time will begin at 12:30. A reminder that this move up day is for in district students only. If you have requested an out of district placement you should send your student to their home school. Please check back through the summer to confirm placement for Kindergarten.


TES... Upcoming April Events: March 25-Early Dismissal March 28->April 1-Spring Break April 8-Spring Party 2:30; Book Fair will be set up for parents to look through. April 11->13-Book Fair April 11-Safety Day at TES April 12-5th Field Trip April 13-4th Field Trip; Spring Parent Night 5:30-7:30 April 14-Early Dismissal April 15-No School April 18-PL Day (no students) April 19-Mid-term 4th quarter April 20/21-5th grade FETC experience April 20-2nd Field Trip April 21-5th grade parent meeting 6:00 in the cafeteria April 22-Tiger Day

TES... The following is some basic Spring Picture information. 1. There are no makeup dates. Just 1 date for spring-March 8th. 2. We ask all students to be photographed in the group picture. If for any reason a student does not wish to be in the group, that is ok. We will confirm with the teacher at that time. (this should not be an issue) 3. Individual pictures are voluntary. Only those purchasing an individual portrait(via online or printed form) will need photographed 4. Order forms will be available online for those unable to place an order via credit card on the site. Those individuals must bring their form on picture day and be handed to the photographer. 5. The web site will be ready by Monday Feb 28. Orders must be placed no later than Friday March 4th for those wanting an individual picture. This allows us to know who needs photographed on picture day. Go to redfordschools.com to place orders. PICTURE STYLE Info FOR SPRING Pictures are 3/4 length with multiple fun, springy background options. Examples of those backgrounds, which families can choose, will be at the ordering site. Group Pictures. The group picture will be either indoors or outdoors depending on weather. Group pictures are to be ordered at the same site as individual spring pictures.

TES... February Important Dates: February 3: Mid-term; 12:30 Dismissal February 4: NO SCHOOL OSE DAY February 7-11: Ag Lab (still need volunteers) February 14: Valentine's Day Party 2:30 February 18: NO SCHOOL OSE DAY February 21: Professional Learning Day-no students February 25: Tiger Day